Ramona was a Recluse who never went to town.
She Read archaic Runes and wore a long black gown.
The Reverend said she was a witch and that she must Repent.
She expired on the Rack to the town's great merriment.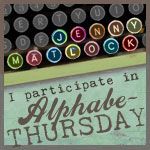 One other thing! R is for Righteous Roadside Attraction! If you are ever in the 'burgh drop in and visit our friends, Velda Von Minx and Mr. ARM at Trundle Manor. Taxidermy, oddities, a plethora of wet specimens and a whole lot of style. Click on the picture below to visit the collections!
Or you can visit WreckinRachel's Etsy site which has some vintage clothes and her handmade aprons.
WreckinRachel on Etsy